1
GATE CSE 2011
MCQ (Single Correct Answer)
+2
-0.6
Consider the following circuit involving three Dtypes flip-flops used in a certain type of Counter configuration.
If all the flip-flops were reset to $$0$$ at power on, what is the total number of distinct outputs (states) represented by $$PQR$$ generated by the counter?
2
GATE CSE 2009
MCQ (Single Correct Answer)
+2
-0.6
Given the following state table of an $$FSM$$ with two states $$A$$ and $$B,$$ one input and one output: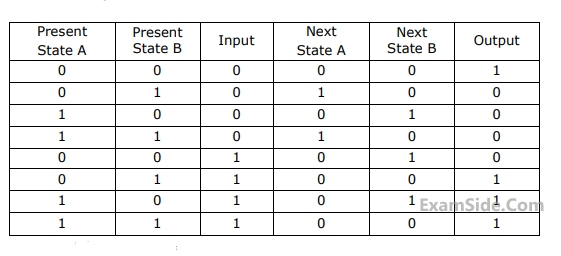 If the initial state is $$A = 0, B=0.$$ What is the minimum length of an input string which will take the machine to the state $$A=0, B=1$$ with Output$$=1?$$
3
GATE CSE 2007
MCQ (Single Correct Answer)
+2
-0.6
The control signal functions of a $$4$$-bit binary counter are given below $$($$where $$X$$ "don't care"$$):$$
The counter is connected as follows:
Assume that the counter and gate delays are negligible. If the counter starts at $$0,$$ then it cycles through the following sequence:
4
GATE CSE 2006
MCQ (Single Correct Answer)
+2
-0.6
Consider the circuit in the diagram. The $$ \oplus $$ operator represents $$EX$$-$$OR.$$ The $$D$$ flip-flops are initialized to zeros (cleared).
The following data: $$100110000$$ is supplied to the ''data'' terminal in nine clock cycles. After that the values of $${q_2}{q_1}{q_0}$$ are
Questions Asked from Sequential Circuits (Marks 2)
Number in Brackets after Paper Indicates No. of Questions